2022 Jeep Grand Cherokee 4xe in Killam, Alberta

2022 Grand Cherokee 4xe in Killam, Alberta
The Grand Cherokee is one of Jeep's most recognizable models. It delivers exemplary performance, upscale interiors, and modern technologies for an unforgettable experience on the road. In addition to the sleek and modern design, the SUV's spacious interior is ideal for families. The 4xe is a plug-in hybrid version of the Grand Cherokee that improves fuel economy and reduces emissions. It features a powerful yet efficient powertrain, updated technology features, and a lineup of five distinctive trim levels.
2022 Grand Cherokee 4xe Design
The 2022 Jeep Grand Cherokee 4xe is a work of art. Its sleek lines and dynamic profile give it a unique look that demands attention while still maintaining an air of sophistication. It has Premium LED lighting that gives it a radiant glow. The stylish, modern LED headlights, fog lamps, and taillamps add to the SUV's character. Jeep provides various wheel options, including redesigned 21-inch polished aluminum wheels found on the top trim level. Jeeps are known for their rugged, go-anywhere attitude, and the Grand Cherokee 4xe takes that to the next level with its stylish and modern interior. The interior features state-of-the-art offerings, including a large 10.1-inch touchscreen display, wireless charging, and heated front seats. Available 16-way power-adjustable front seats with memory and massage provide optimum comfort and support. Thanks to the multicolour LED lighting system, you can adjust the interior glow on higher-trim levels to create the perfect ambiance for any journey. To explore our new inventory of the 2022 Grand Cherokee 4xe in Killam, Alberta, stop by our showroom and ask our experts for an in-depth walkthrough.
2022 Jeep Grand Cherokee 4xe Interior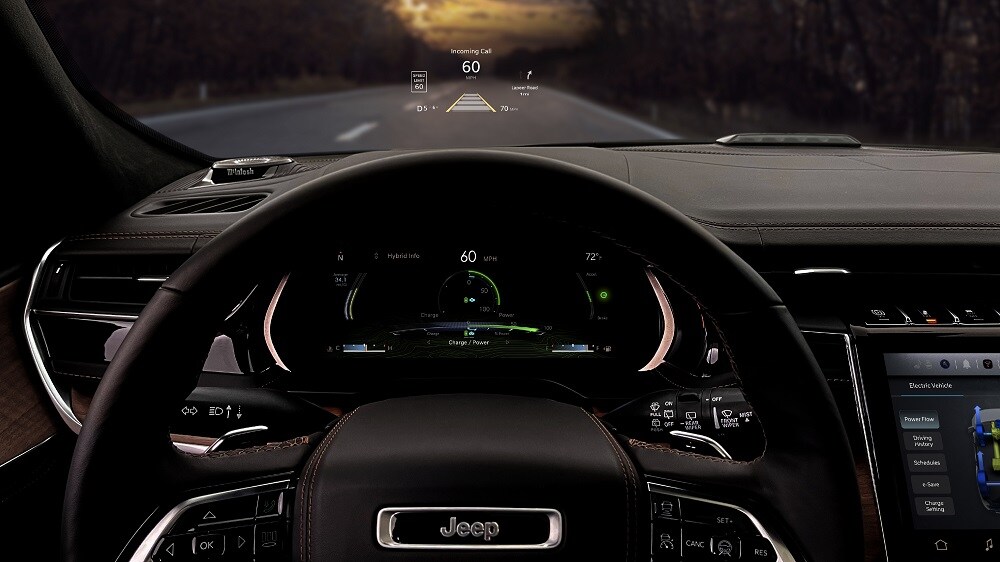 2022 Jeep Grand Cherokee 4xe Exterior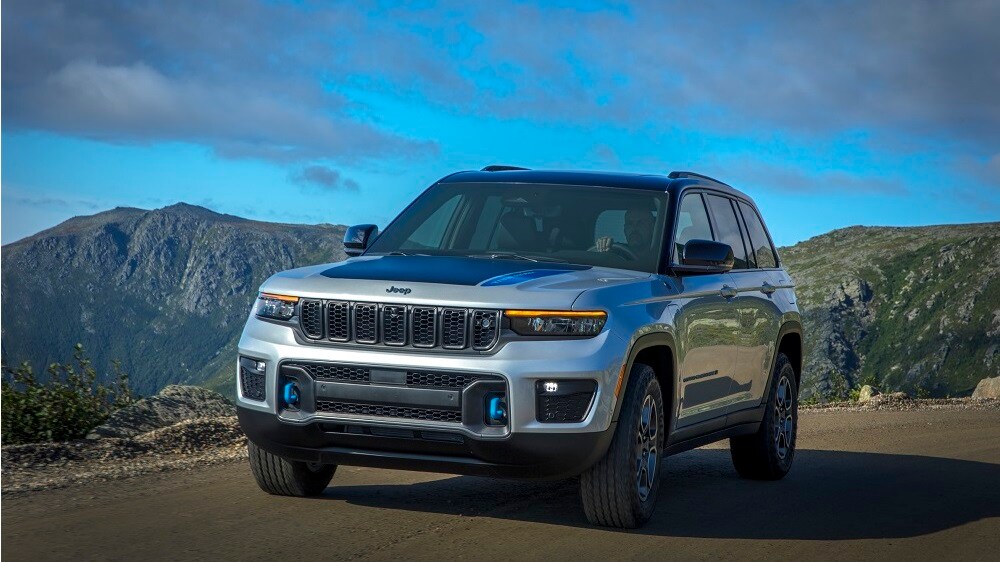 2022 Grand Cherokee 4xe Towing Capacity & Performance
Whether you're shopping for an elegant vehicle for work or a fierce family off-roader, you can't go wrong with the 2022 Jeep Grand Cherokee 4xe. The hearty SUV has a towing capacity of up to 6,000 pounds, allowing you to easily take your boat out on the lake or haul a trailer full of gear. This Jeep includes Selec-Terrain traction control as standard, while the Quadra-Lift air suspension system becomes standard a trim up from the base. The Selec-Terrain system calibrates the vehicle to provide the best on-road and off-road performance depending on the terrain mode selected. The terrain modes available are Auto, Snow, Sand/Mud, and Rock. The 4xe powertrain utilizes a 2.0-litre turbocharged four-cylinder engine and a 17-kWh lithium-ion battery pack. The system is paired with an eight-speed automatic transmission to generate an impressive 375 horsepower and 470 lb-ft of torque. The SUV comes with an updated suspension system that greatly improves handling and stability on the road.
2022 Grand Cherokee Hybrid Features & Hybrid Technology
As the world of automotive design continues to move towards more environmentally friendly options, carmakers are looking for ways to reduce emissions without sacrificing power and performance. The Jeep Grand Cherokee 4xe is a perfect example of this trend, as it is powered by electric motors and a traditional gasoline engine. This powertrain combination makes the 4xe more fuel-efficient than its predecessors and provides outstanding performance to keep up with your everyday driving needs. Drivers can choose between three driving modes, including Hybrid, Electric, or E-Save, catering to various driving situations. The Hybrid driving mode combines engine and electric motor power to maximize driving range and capability. E-Save mode disables the battery and saves the power for later. Electric mode allows the 4xe to drive on all-electric power. However, the gas engine usually kicks to support the electric motors. The SUV runs quietly on all-electric power, providing an almost surreal driving experience.
Contact Us at Campbell McLennan 
Visit us at Campbell McLennan to learn more about the 2022 Grand Cherokee 4xe and our trade-in offers. You can also reach out to our Finance Centre for tailor-made finance and lease solutions to suit your specific financial situation. If you still have questions about the Grand Cherokee 4xe or other Jeeps from our selection, don't hesitate to contact us.
2022 Jeep Grand Cherokee For Sale At Campbell-Mclennan Chrysler