2021 Jeep Wrangler: All-New V8 HEMI Engine in Killam, AB
2021 Jeep Wrangler
Available At Cambell-Mclennan Chrysler
2021 Jeep Wrangler: All-New V8 HEMI Engine in Killam, Alberta
If you are searching for a new or pre-owned vehicle in Killam, Alberta, you should visit our dealership at Campell McLennan. We are sure that you will enjoy our large showroom full of high-quality vehicles. Our customer service is second to none, as we provide the best customer-oriented services. Our dealership is located in Killam, Alberta, but we are more than happy to provide excellent service to our customers in the surrounding areas of Edmonton, Camrose, Wetaskiwin, and Wainwright. The 2021 Jeep Wrangler is one of the many great vehicles you can check out at our dealership.
The 2021 Jeep Wrangler Provides You With Excellent Horsepower
If you choose to buy the 2021 Wrangler Rubrican 392 from our dealership, you get a 6.4-litre V8 HEMI engine. This engine provides you with 470 horsepower and 470 lb-ft of torque. You can enjoy quick acceleration because the 2021 Wrangler can go from 0 to 95 KPH in just 4.5 seconds. This part of our new inventory - Jeep 2021 Wrangler Rubican 392 also stands out due to its engine. The Jeep Wrangler Rubicon 392 with the V8 HEMI Engine is the first factory V8-powered Jeep vehicle in quite some time. It has been over 40 years since Jeep last made a factory V8-powered vehicle before the arrival of the 2021 Wrangler.
The 2021 Wrangler's Engine Is Unique
The 2021 Wrangler not only provides you with excellent horsepower and torque in addition to considerable towing capacity, but it also features an engine that is connected to paddle shifters. This addition makes the 2021 Wrangler the first Wrangler to include an engine connected to paddle shifters. Thanks to these paddle shifters, you can manually shift the 2021 Wrangler even if you choose a model that includes an automatic transmission system. This feature makes the driving experience even more enjoyable. The 2021 Wrangler comes with an exhaust system that first adds to the vehicle's overall rugged exterior style, but it also makes the vehicle exhaust notes deep and powerful.
2021 Jeep Wrangler Exterior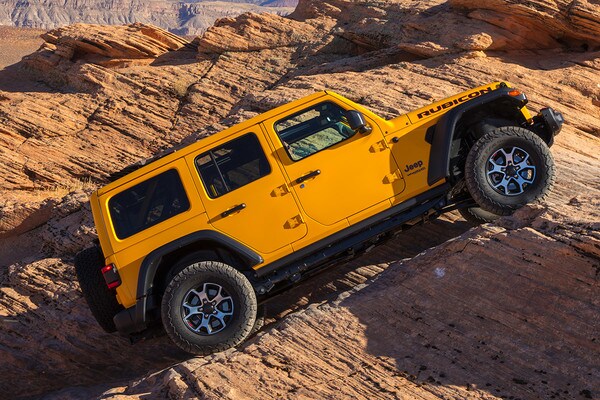 2021 Jeep Wrangler V8 Engine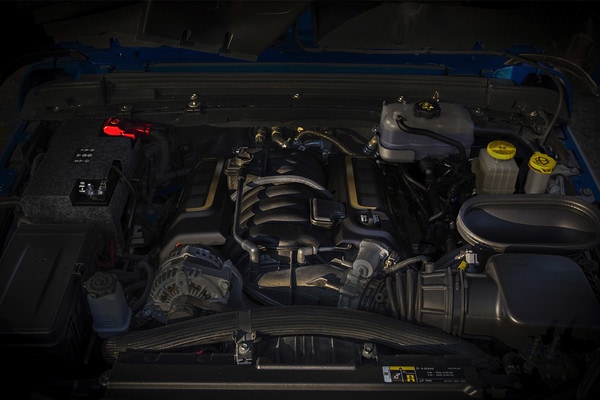 The 2021 Wrangler Includes Great Exterior Features
The 2021 Wrangler Rubican gives you capable shock absorption thanks to its Fox shock absorbers. You also get nearly 11 inches of ground clearance, allowing you to drive off-road effortlessly. Other features that boost the Wrangler's off-road capabilities are more robust frame rails, new suspension geometry, upgraded upper control arms and heavy-duty brakes. To ensure maximum traction and capability off-road, the Rubican 392 is delivered with 33-inch tires mounted onto Beadlock-capable 17-inch wheels allowing for a better approach, departure and break-over angles.
The 2021 Wrangler Rubicon V8 HEMI provides you with excellent off-road capability. You can see this thanks to its Trail Rated badge. The Trail Rated badge means that the vehicle has made it through some of the world's most challenging trails. You are sure to enjoy exceptional off-road driving with the 2021 Jeep Wrangler Rubicon 392. Water is no problem for the 2021 Wrangler Rubicon 392 since it can handle up to 32.5 inches of water without any issues.
The 2021 Wrangler Offers Selectable Drive Modes
The 2021 Wrangler uses a four-wheel-drive system. You can select 4WD and 4WD Low as two of the vehicle's driving modes. With the V8 HEMI Engine on the Wrangler Rubicon, you can still gently crawl over tough terrain thanks to the vehicle's impressive crawl ratio. You also can choose an available body-coloured hardtop if you wish. The available Safety Group adds safety features like rear parking sensors, rear cross-traffic alert, and blind-spot monitoring. The Jeep Advanced Safety Package includes adaptive cruise control, automatic emergency braking, and forward-collision warning.
Campbell McLennan Is Your Premier Destination For the 2021 Wrangler
You can contact us for additional information about the 2021 Wrangler Rubican 392. You can also easily submit a finance application online to our finance centre for preapproval. We invite you to come to test-drive our Jeeps to find the perfect vehicle that suits all your needs. For further savings, we offer a trade-in tool to help estimate your current vehicle's value, which can be used as a credit towards your new purchase.
2021 Jeep Wrangler Inventory In Killam, Alberta
Hours
Monday

8:30am-5:30pm

Tuesday

8:30am-5:30pm

Wednesday

8:30am-5:30pm

Thursday

8:30am-5:30pm

Friday

8:00am-5:00pm

Saturday

Closed

Sunday

Closed