2021 Jeep Wrangler in Killam, Alberta
2021 Jeep Wrangler
Available At Cambell-Mclennan Chrysler
Meet The 2021 Jeep Wrangler Today!
If you're looking for a "Jeep Wrangler for sale near me" and want to work with a dealership you can trust, turn to us at Campbell McLennan. We've worked hard to become a preferred dealership in Killam, Alberta. We've been fortunate to have helped various local customers, including those from the surrounding areas of Edmonton, Camrose, Wetaskiwin and Wainwright. We're always happy to hear from prospective customers, so please contact us if you'd like more information about our new Jeep inventory. Staff members from our finance centre could speak with you if you have specific questions about financing.
One of the hottest and most sought-after automobiles for 2021 is the Jeep Wrangler. This particular SUV has everything that you could ever want or need. Versatility is the key to success as you can drive this vehicle on the highway or off-road. Campbell-McLennan is your preferred dealer in Killam, Alberta, and we serve a large geographical area. Includes serving the municipalities of Edmonton, Camrose, Wetaskiwin and Wainwright. We also have a large selection of new and used Jeep vehicles, so choose wisely.
Overview of the 2021 Jeep Wrangler
The 2021 Jeep Wrangler in Killam Alberta is a classic Jeep. This refined SUV is an ideal choice for off-road activities. You can receive an open-air experience by removing the doors and roof if need be. Its engine is powerful, as well as efficient. Our new inventory has various colours to choose from, and our used inventory is just as diverse. Consumers can also expect technological advancements, interior comfort, as well as hidden amenities.
The Jeep Wrangler is one of our most popular models. It's known for its capability, adventurous spirit, and flexibility. It's been around for a long time, and it seems to be getting better each year. The 2021 Jeep Wrangler has an iconic look, with its boxy frame, athletic build, round headlights, and unmistakable front grille. Jeep has incorporated a lot of advanced technology into its 2021 model, so you'll be pleased with everything it has to offer.
2021 Jeep Wrangler Exterior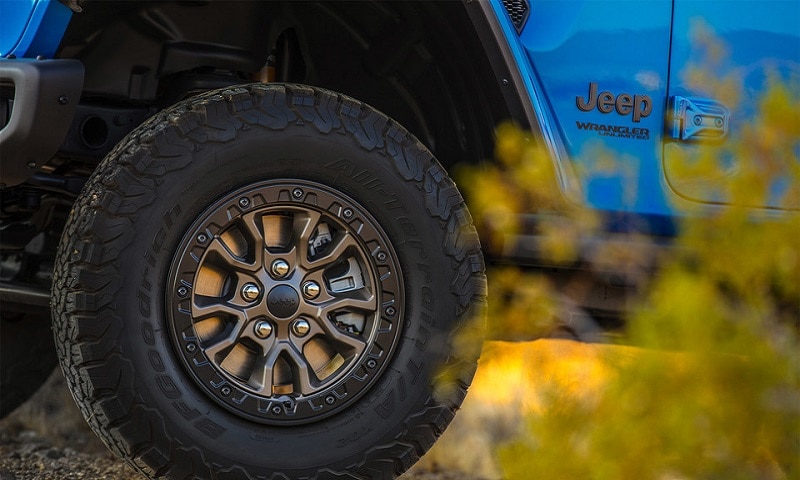 2021 Jeep Wrangler Interior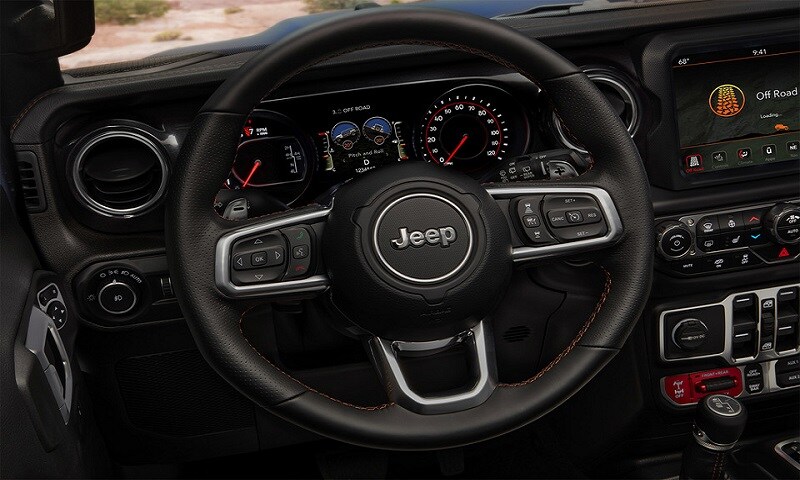 2021 Wrangler Suspension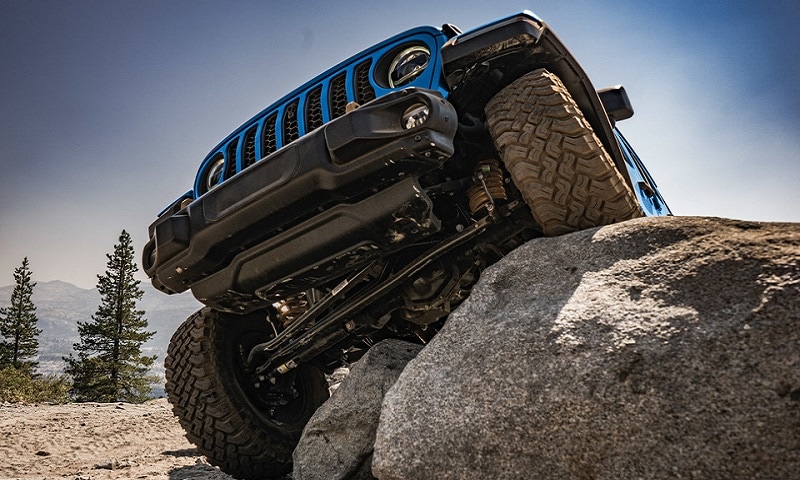 Interior 2021 Jeep Wrangler Features
The interior of the 2021 Jeep Wrangler is crafted very well from front to rear. This refined interior is very contemporary in appearance, and five individuals can sit comfortably in the cabin. Specific finishes come tailored for each trim, including weather-resistant carpet. The interior will host leather-trimmed seats, but cloth material is also an option. Black and tan are the available hues for the interior.
Exterior 2021 Jeep Wrangler Features
Campbell-McLennan Jeep dealership has multiple trims that are available. The 2021 Wrangler exhibits a steel frame, rear overhang and badging. The vehicle's wheel arches are relatively high, and tow hooks are present at the front and rear. The front LEDs come equipped with daytime running lamps. Jeep's seven-slot grille is still present at the front to complete the look. There is also an array of wheel designs.
What's fun about the Jeep Wrangler is that its top, doors, and windshield can all be removed, giving you an authentic open-air experience. There are plenty of opportunities to customize a new Wrangler, so it's up to you if you want unique wheels, a certain kind of roof, or other specialized features. The 2021 Jeep Wrangler colours vary, so you could get one that fits your personality, whether dark green, striking red, or bright white. Other choices include black, orange, blue, and various shades of gray. On top of choosing your preferred colour, you'll want to think about your select trim. The Sport is the first of our Jeep Wrangler trim options. It's followed by the Willys Sport and Sport S. The Islander, Willys, and 80th Anniversary are mid-level trims that have comprehensive technology packages and more excellent interior materials. The Sport Altitude, High Altitude, Rubicon, Sahara, and RHD are specialized trims capable and packed with high-end components.
In a Jeep Wrangler, you and up to four others can have a lot of fun and stay entertained with the available premium audio system and smartphone connectivity. The smaller storage compartments found throughout the vehicle can safely keep certain items out of sight. The rear cargo area is relatively sizable, and you can lower the rear seats or load up the roof racks if you have more oversized items to transport. As you drive, your Jeep could be watching out for your safety. It can come with many driver-assist systems, such as automatic emergency braking and blind-spot monitoring, so that you can stay out of harm's way.
Jeep Wrangler Safety Features
This SUV comes equipped with over 75 safety features. Its frame comes made from high-strength steel. The use of radar-based sensors will thoroughly scan the highway for possible danger. Includes Forward Collision Warning, a rear back-up camera and Adaptive Cruise Control.
2021 Jeep Wrangler Specs and Technology
SUV lovers will have access to smartphone integration via Android Auto and Apple CarPlay. Streaming music has never been easier. There's a 7.0-inch touchscreen that has pinch-and-zoom capability as well as apps. A hands-free function is possible via Bluetooth. There's also premium audio and Wi-Fi Hotspot.
The 2021 Jeep Wrangler Capability
The 2021 Jeep Wrangler is beastly thanks to having four-wheel drive. Heavy-duty Dana axels are present, as well as 33-inch tires if need be. Various powertrains are available via a 2.0-litre turbocharged engine that produces 270 horsepower and can tow 907 kg. The available 3.0-litre eco-diesel engine produces 442 pound-feet while pulling 1,588 kilograms. We sell two different versions of the 3.6-litre engine, and one will come equipped with eTorque technology. Fuel economy comes estimated at 11.8 L/100 KM.
Contact Us Today!
The 2020 Jeep Wrangler is also offered at Campbell-McLennan Chrysler Jeep, so why not take advantage of making a purchase. Parts and other details are available at our location, so contact us today.
2021 Jeep Wrangler In Killam, Alberta
Hours
Monday

8:30am-5:30pm

Tuesday

8:30am-5:30pm

Wednesday

8:30am-5:30pm

Thursday

8:30am-5:30pm

Friday

8:00am-5:00pm

Saturday

Closed

Sunday

Closed