2023 Jeep Grand Cherokee 4xe in Killam, Alberta

2023 Jeep Grand Cherokee 4xe in Killam, Alberta
Are you looking for the perfect vehicle to take on all your adventures? Look no further than the 2023 Jeep Grand Cherokee 4xe, an impressive and capable SUV that will excite. With its advanced technology, powerful performance features, and luxurious interior, the Grand Cherokee 4xe is designed to handle any challenging terrain you may face. At Campbell-McLennan Chrysler in Killam, Alberta, we are proud to feature this impressive vehicle in our new inventory.
2023 Jeep Grand Cherokee 4xe Interior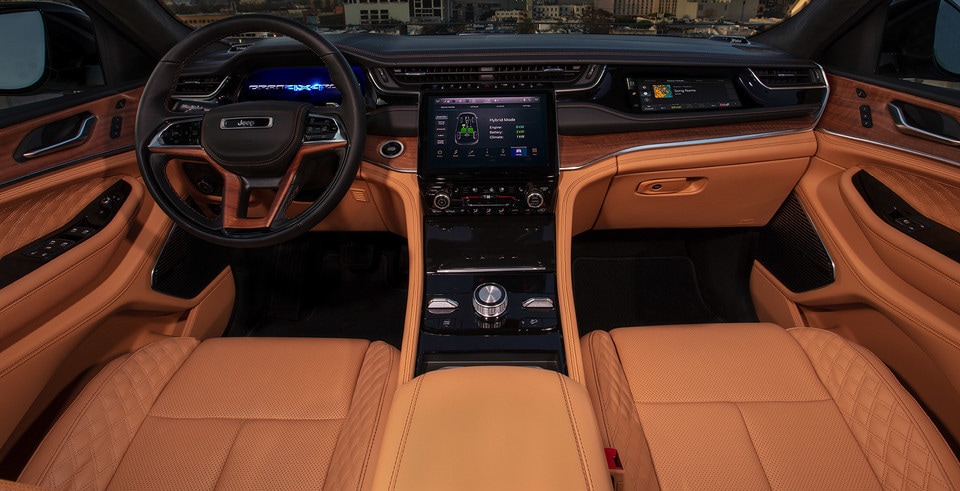 The interior of the Grand Cherokee 4xe is luxurious and comfortable, designed to provide you with a genuinely top-of-the-line driving experience. The seats are overlaid with soft-touch materials and feature stylish stitching that adds a touch of elegance. The passenger seats have memory settings to provide additional comfort. The driver's seat features an adjustable 16-way lumbar support to ensure you are always positioned precisely where you need to be.
2023 Jeep Grand Cherokee 4xe Exterior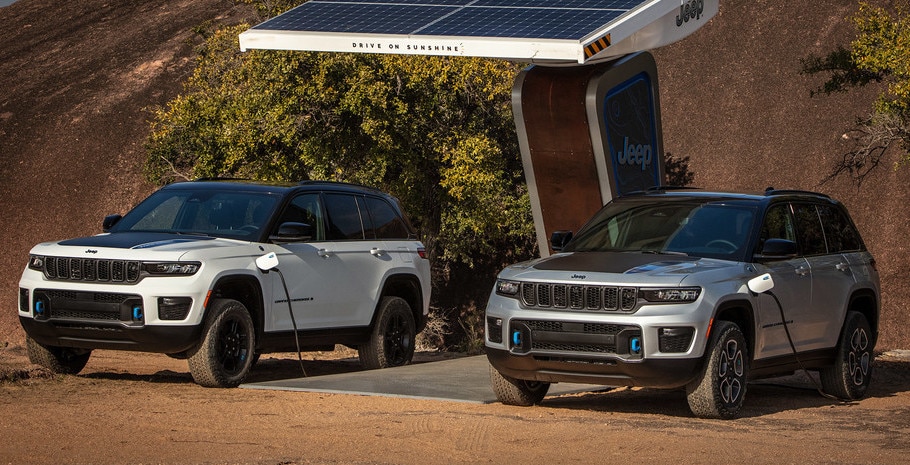 The exterior of the Grand Cherokee 4xe is sleek and stylish, with an aerodynamic design that enables it to cut through the wind with ease. Some of its standout features include a bold grille that adds a sporty touch and dynamic lighting systems that ensure you are constantly visible on the road. Additionally, the two-tone roof and large alloy wheels help elevate this remarkable vehicle's overall look and feel.
2023 Jeep Grand Cherokee 4xe Technology
The technology in this SUV is truly cutting-edge, with a range of innovative features designed to make your driving experience more convenient and enjoyable. The modern infotainment system is fully equipped with all the latest features, a multi-phone wireless system, and a 3x better screen resolution. Additionally, the interactive driver display is highly accurate, with advanced navigation and music selection that can be controlled using voice commands.
2023 Jeep Grand Cherokee 4xe Performance
The performance of the Grand Cherokee 4xe is truly outstanding, with a powerful engine and advanced all-wheel-drive system that ensures you are always in complete control. The 8-speed transmission provides smooth, seamless shifting, and the engine delivers impressive acceleration and handling, even on challenging terrain. Whether navigating city streets or off-road trails, the Quadra Trac and Selec-Terrain systems help you easily tackle any driving encounter.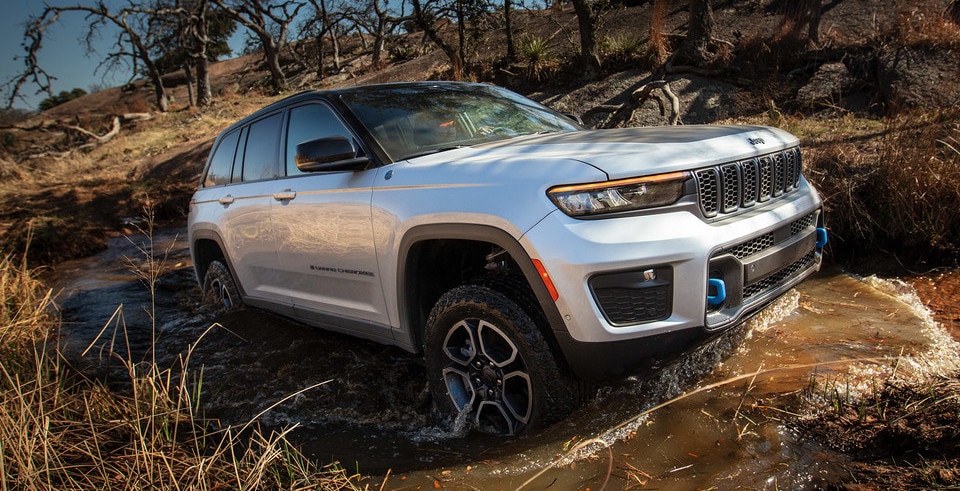 4xe
Like all the Grand Cherokee 4xe's trims in our new inventory, the base model packs a turbo engine and electric motors for a solid 375 horsepower and 470 lb-ft of torque. This plug-in hybrid SUV also gets a reliable four-wheel drive system and a tech-heavy cabin with a Uconnect 5 NAV multimedia system, a front passenger interactive display, and an Alpine premium audio system.
Trailhawk
True to its name, the 4xe Trailhawk trim is great for venturing off the beaten path. Indeed, this Grand Cherokee model boasts a Quadra-Lift air suspension system for an adaptable ride on uneven terrain, a front disconnecting stabilizer bar, and a Quadra-Drive II four-wheel drive system with a rear electronic limited-slip differential, so you can hit the trails with peace of mind.
Overland
The Overland trim is all about refinement and convenience, as it includes heated front- and second-row seats trimmed in rich Nappa leather, a hands-free power liftgate, and a dual-pane panoramic sunroof to keep you in touch with the great outdoors. This Grand Cherokee 4xe model also offers top-notch sound quality, thanks to a McIntosh audio system with 19 perfectly placed speakers.
Summit
Those who prioritize refinement and luxury will want to meet the Summit trim, which offers 16-way power-adjustable front seats with a massage function, a leather-wrapped and wood-trimmed steering wheel, and a stylish set of silver-painted aluminum wheels. The Summit also comes with valuable driver-assist technology like Drowsy Driver Detection and an Intersection Collision Assist System to give you a clear head at the wheel.
Summit Reserve
The Summit Reserve completes the Grand Cherokee 4xe lineup with an added touch of luxury both inside and out. Indeed, this model's exterior gets 21-inch polished aluminum wheels, while its refined cabin comes with ventilated second-row seats, rich Palermo leather upholstery, and Nappa Reserve door trim. For more on the 2023 Grand Cherokee 4xe and how our Finance Centre can help you with your next purchase, contact us at Campbell-McLennan Chrysler.
2023 Jeep Grand Cherokee 4xe Capability
The Grand Cherokee 4xe is designed to be a highly capable vehicle, with features that enable you to take on any terrain. It powers through 24 inches of water thanks to its battery controls and units that can keep it moving in any condition. The 6,000-pound towing capacity ensures that you can take whatever you need along with you, while the all-electric range of up to 42 kilometres means that you can travel a greater distance on one charge. A 400-volt battery and two electric motors make this SUV fuel-efficient, while the 761 kilometres total range allows you to travel farther without being slowed down.
Contact us to Learn More!
At Campbell-McLennan Chrysler, we know that the 2023 Grand Cherokee 4xe is more than just a stylish and powerful vehicle. It is the perfect choice for anyone who wants to enjoy the ultimate driving experience and explore all that the world has to offer. Our Finance Centre can help you to get the Grand Cherokee 4xe that is right for you. Get behind the wheel of your favourite 2023 Grand Cherokee 4xe model today. Contact us to get started!
Make an Inquiry
* Indicates a required field
2023 Jeep Grand Cherokee 4xe at Campbell-Mclennan Chrysler